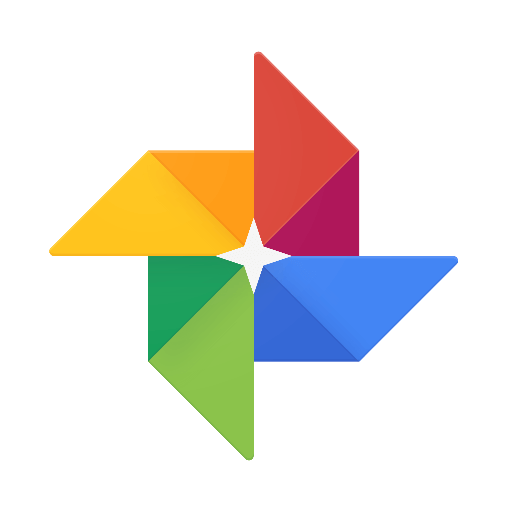 Late last year, Google Photos passed the milestone of 100-million Monthly Active Users, after only 5-months as an independent product (Google Photos used to be part of Google+, and inherited at least some users from the previous Google+ Photos service), and the company shows no signs of reducing their commitment to its development.
Photos straddles a line between product categories: Cloud Storage, Photo and Video Editing Service, Web-and-App-Based Photo Sharing Service, and even 'Social Networking'. Even early on as a product, Photos had already adopted a feature inspired by social media: Rediscover This Day. Rediscover This Day is like Facebook's On This Day, except that unlike Facebook, which can only remind you of stuff you've shared to their network, Google Photos can remind you of any photo in your collection whose metadata says it was taken on that day.
Then, at the Nexus Event 2015, the company unveiled a feature for Google Photos called Shared Albums. Shared Albums allow for a combination of Album Collaboration (i.e. allowing multiple users to make additions to the same album) and Album 'Following'. Anyone with a link to the album and a basic Google Account can 'Join' it to receive Notifications when new photos are added. (Those who don't have a Google account can still view these albums if given a link.)
This feature finally launched in December of last year. At that time, the Photos team also teased a future Commenting system, with product lead Dave Lieb telling The Verge, "[C]omments and likes will be added to Shared Albums, but in a staged, thoughtful approach. He said he prefers to figure out when and where to allow comments and likes, for example, creating a space where comments are left on the entire album, rather than on each photo.
As promised, Google Photos launched its new Commenting feature earlier this month. Anyone who joins a Shared Album can now Comment on both the album itself, as well as on individual photos. Shared Album Owners can disable Comments, or Collaboration, or both. (There is still no way, however, to allow only specific people to Collaborate and Comment; anyone with a link to the Shared Album and a Google account to Join it can do either or both, depending on whether these are enabled or disabled in the Sharing Settings).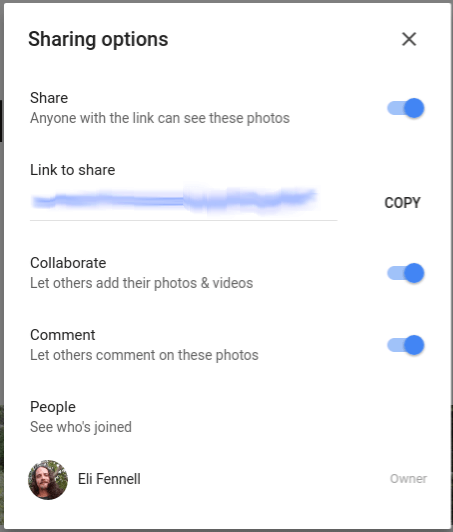 'Following' and Commenting on an album in this manner would usually be associated with a social network, but Google Photos has a unique edge over any of these networks: it doesn't require 'Joiners' to actually join Google Photos at all to use it. They don't even need to have the Google Photos app installed; all that is required at a minimum is a standard Google account, a web browser, and a link to the Shared Album. Those without Google accounts may still view Shared Albums for which they've been given a link, but may not Collaborate or Comment on it. It does not, however, require a Google+ account (the era of mandatory Google+ account for all Google users is well and truly over), or any other type of social network account
While Google's hypothetical use cases for this feature focus on Sharing albums with family, friends, and loved ones, one of the more interesting aspects of software design is what might be called 'The Rule of Unintended Design Consequences', where users go beyond the ways you imagined them using your software when you designed it. Twitter, for example, was intended to be a 'social network' for text messaging, but the very design constraints (e.g. the 140-character limit) that this goal necessitated has also helped to make Twitter popular with Journalists, Celebrities, and other public figures as a short message 'broadcasting' medium.
It's easy to imagine an unintended (though not unwelcomed, should it happen) future use for Shared Albums: as a way for Public Figures, Brands, Artists, and others to reach and attract Followers across, and even outside of, the usual social channels. Few networks offer such a photos-focused experience. Facebook and Twitter, for example, mix shared photos in with text, links, videos, games, apps, and other content in their News Feed and Stream, and though there are some limited ways to filter the user experience around photos, the default view is a hodgepodge. Instagram, meanwhile, focuses on sharing singular pieces of visual content: a photo, a short video, as opposed to albums. 'Following' on Instagram is limited to Following user accounts, and the network also has significant limitations on the types of images and videos it supports, unlike Google Photos.
A more direct comparison with Google Photos would be Yahoo!'s Flickr. While generally known as a service for backing up and sharing images, Flickr is also a social network, and was already popular when Facebook was still just a gleam in The Zuck's eyes. At one time, virtually anyone online who cared about storing and sharing high quality images, and building a following around their images, used Flickr. In 2005 it was bought by Yahoo!, then a giant in the Search market it would soon lose to Google.
Unfortunately for Flickr, at that time Yahoo! had no real interest in building on or building out the service, let alone becoming a major player in social media. Their interest was limited to indexing Flickr's vast database of images for Search. The end result was that Yahoo! basically killed Flickr, and today despite efforts under Marissa Mayer's stewardship to improve and promote the product, it remains a shadow of its former glory.
Yet, even now, there are millions of people who use Flickr and similar services to share photos, videos, images, and albums and to attract Followers, rather than uploading them directly to other networks. Some do this because of content ownership and licensing issues: they feel more in control of their content this way. Others do so because it's easier to ensure that your images look good on one service, especially a service focused around image sharing, than to share them 'natively' to a multitude of different networks with different image aspect ratios, image qualities, support for different image types, different systems for organizing albums, etc… Google Photos could become the new Flickr.
[clickToTweet tweet="Google Photos could become the new Flickr. #GooglePhotos #Flickr" quote="Google Photos could become the new Flickr."]
The potential market for this type of service may be even larger than the market that currently exists, given how woefully underserved it has been ever since the gutting of Flickr and simultaneous rise in Facebook and other social networks, both of which trends ultimately stunted innovation in the market. I think Google may be counting on that, in fact. Shared Albums takes this overlap with social one step farther, and while it isn't currently suited for the Taylor Swifts and Annie Leibovitz's of the world to start sharing collaborative albums with their followers, it wouldn't take much tweaking to make it ready for this.
Google Photos Albums can be shared via hyperlink to nearly any social network (with the exception of Instagram, which doesn't support link sharing), or via email, via Instant Messaging and SMS, and by virtually any channel of online communication. Add the fact that, as previously mentioned, this doesn't require any installation by the recipient, and Google Photos could become a sort of 'Meta Network' for photo sharing.
[clickToTweet tweet="Google Photos could become a 'Meta Network' for photo sharing. #GooglePhotos" quote="Google Photos could become a 'Meta Network' for photo sharing."]
The challenge for Google, in this case, will be to balance the value of the service for social sharing, with its primary purposes of storing, enhancing, and organizing your images and videos and letting you share these anywhere with 'no strings attached', i.e. without dictating where or who you share images or links with, and without requiring your recipients to jump through too many hoops to use. In addition to 'Rediscover This Day', Album Collaboration, Comments, and Notifications, a variety of subtle social (or social-like) features seem possible in future updates (e.g. 'Likes').
If they continue to innovate and promote the product successfully, Google could very well find itself a major player in yet another area of social media (beyond YouTube, which is hugely successful, and Google+ which enjoys a respectable but not overwhelming user base of its own), ironically without ever truly building out a new network or pressuring every visitor to sign up or install anything.
Google Photos could even challenge the trend of social network users uploading more photos and videos directly to the networks themselves or using those networks to organize their photos and album, at least among a certain subset of users, enticing them to host more of their photos in the Google Cloud instead of going 'social native'. Google Photos could disrupt social media without ever becoming a social network. This could be viewed as a parallel development to rise of messaging apps and other products and services which, while not social networks in themselves, are nonetheless challenging social media for the time and content sharing of web and app users.
[clickToTweet tweet="Google Photos could disrupt social media without ever becoming a social network. #GooglePhotos" quote="Google Photos could disrupt social media without ever becoming a social network."]
Do you use Google Photos? Do you like seeing it become a more 'social' product, or should it remain as much of a 'pure photo product' as possible?
Related Posts