Yesterday, Android Police spotted a new version of the Google Wallet app in the Google Play Store, called Google Wallet (New).  This wasn't an update to the current app that will eventually roll out to users, but rather an entirely separate app.  This was to be expected, in a way, as the original Google Wallet app itself was warning us this was coming for a while: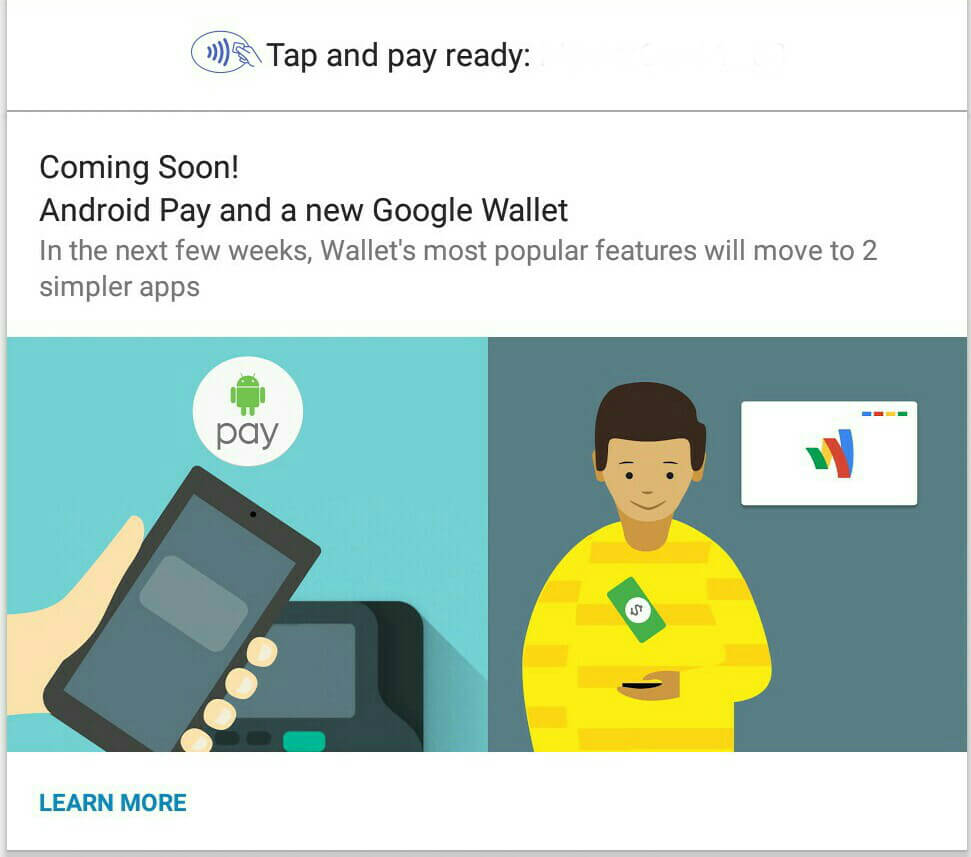 You can't say we weren't given fair notice, although what many people probably didn't realize was that the original Google Wallet app will be 'updated' to a new app: Android Pay.  This will retain the wireless payment functionality of Google Wallet, and the rest moved into a new app.  Presumably the new Android Pay app will also remind users of the switch when it comes, and prompt them to download the new app if they wish to continue using Google Wallet.
Yesterday, I downloaded the new app myself to one of my devices (a Nexus 7 2013 tablet) to see what it looks like.
This starts, of course, with finding its listing in the Play Store.  I had to use the direct link from Android Police, as it didn't show up in Search results in the Play Store or on Google Search.  When you find it, it will look like this: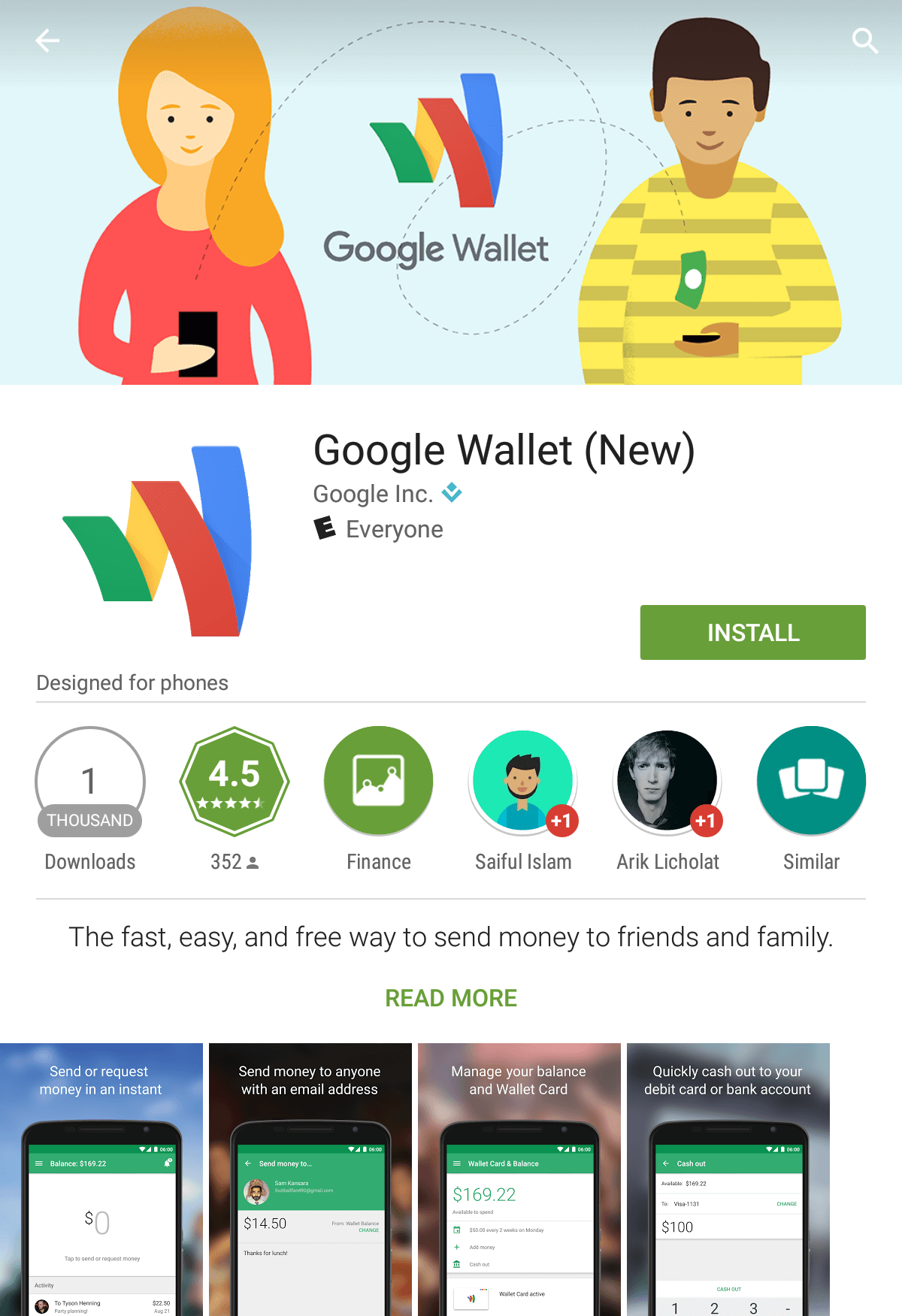 When running the app for the first time after installation, you'll be greeted by a series of four welcoming screens explaining the primary focuses of the new app, some of which you can skip if you choose.

After this you're dropped onto the app security screen, where you must enter your PIN number to proceed.
So green!  My eyes!  I've been blinded!
They certainly didn't skimp on the green this time around, so if you didn't get the metaphor by now: this app is a digital wallet, for your money, which is green.  Repeat that until it sinks in… there may be an exam later.
Tap in your PIN number and you'll be taken to the new, simplified Home tab that puts the focus squarely on Sending and Requesting money, and also displays your Wallet Account Activity.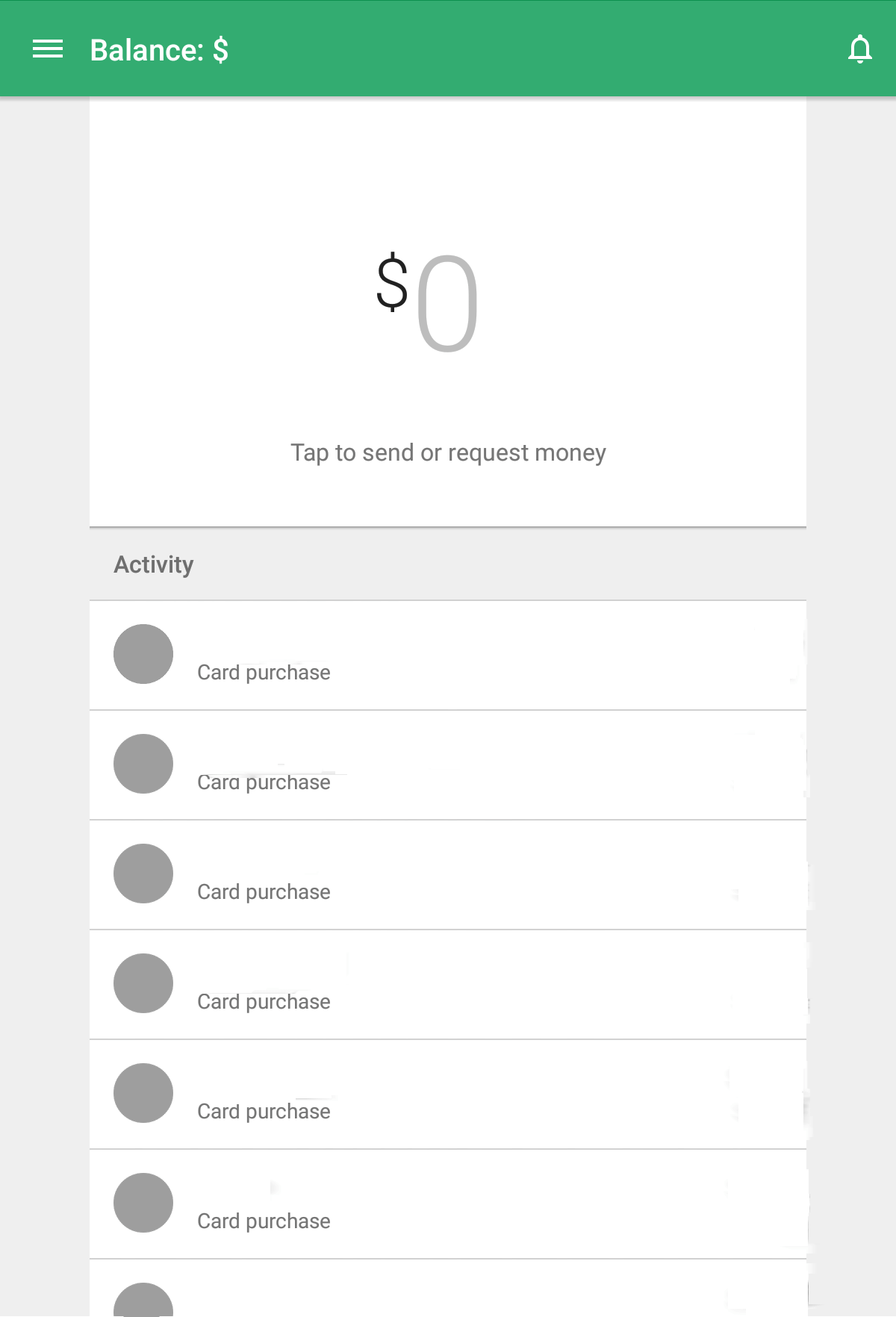 Tapping where it says Tap to send or request money brings up the numerical keyboard and two grayed-out options: Request and Send.  Type in the amount you would like, and the options for these will become highlighted in green.  I don't really have anyone to try this out with, or any reason to do it, so I'll leave that for others who may wish to use the app for this purpose.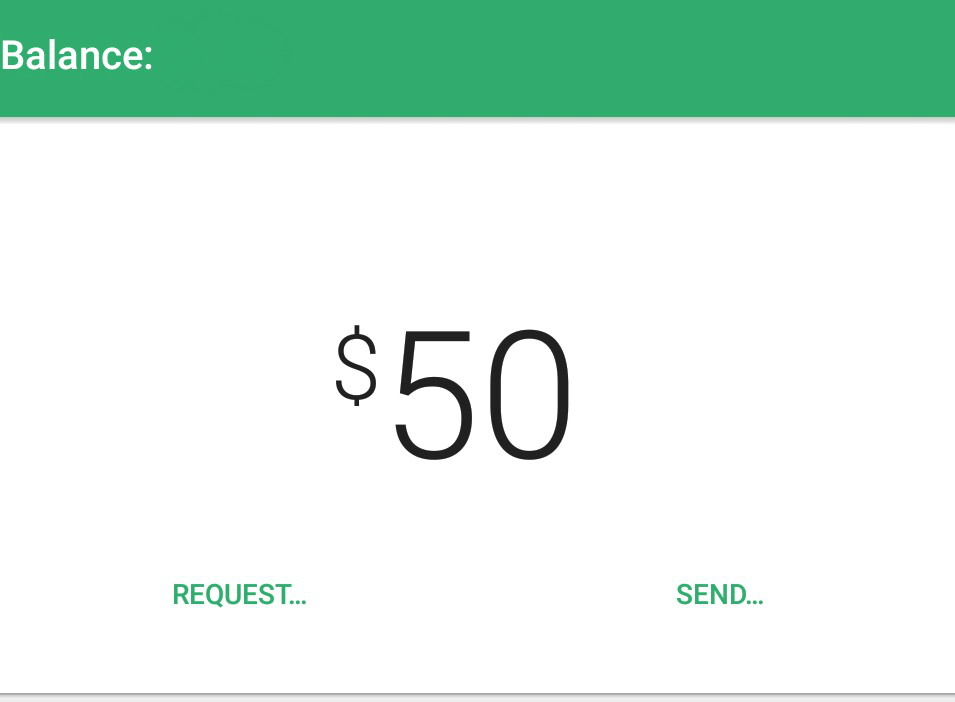 You may have noticed that there is also a bell in the upper right hand corner of the screen.  Users of Google+ will recognize this as the familiar Mr. Jingles, who functions as the Notification Center for that network, and more recently for Google Photos and YouTube Notifications, as well.  This isn't the first time Google has used a version of Mister Jingles outside of Google+, Google AdSense for example has its own bell shaped Notification Center as well, but this is the first time another consumer-facing Google product has used it with no connection to Google+.  This may suggest Google intends to use the Mr. Jingles Notification Bell as a standard part of at least some of their apps, and maybe all of them.
Tapping the Notification Bell will take you to another screen, displaying either your Notifications (see Notification Settings below) or your lack thereof, and here the similarity to Google+'s Mister Jingles is even stronger.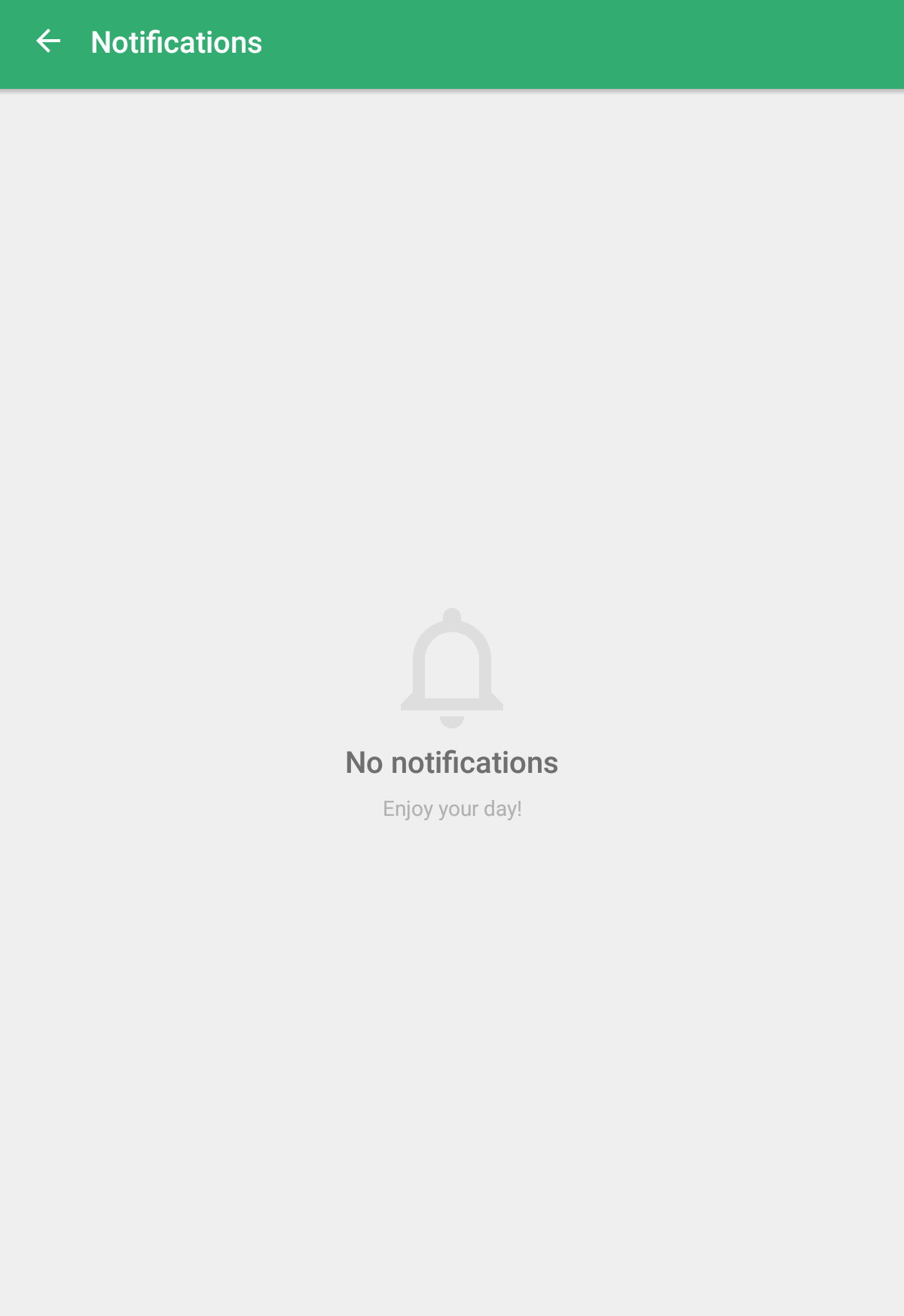 Returning to the Home panel, there is a sliding navigation menu on the left hand side, which displays four other options, only one of which you're likely to use often: Wallet Card & Balance, Settings, Send Feedback, and Help.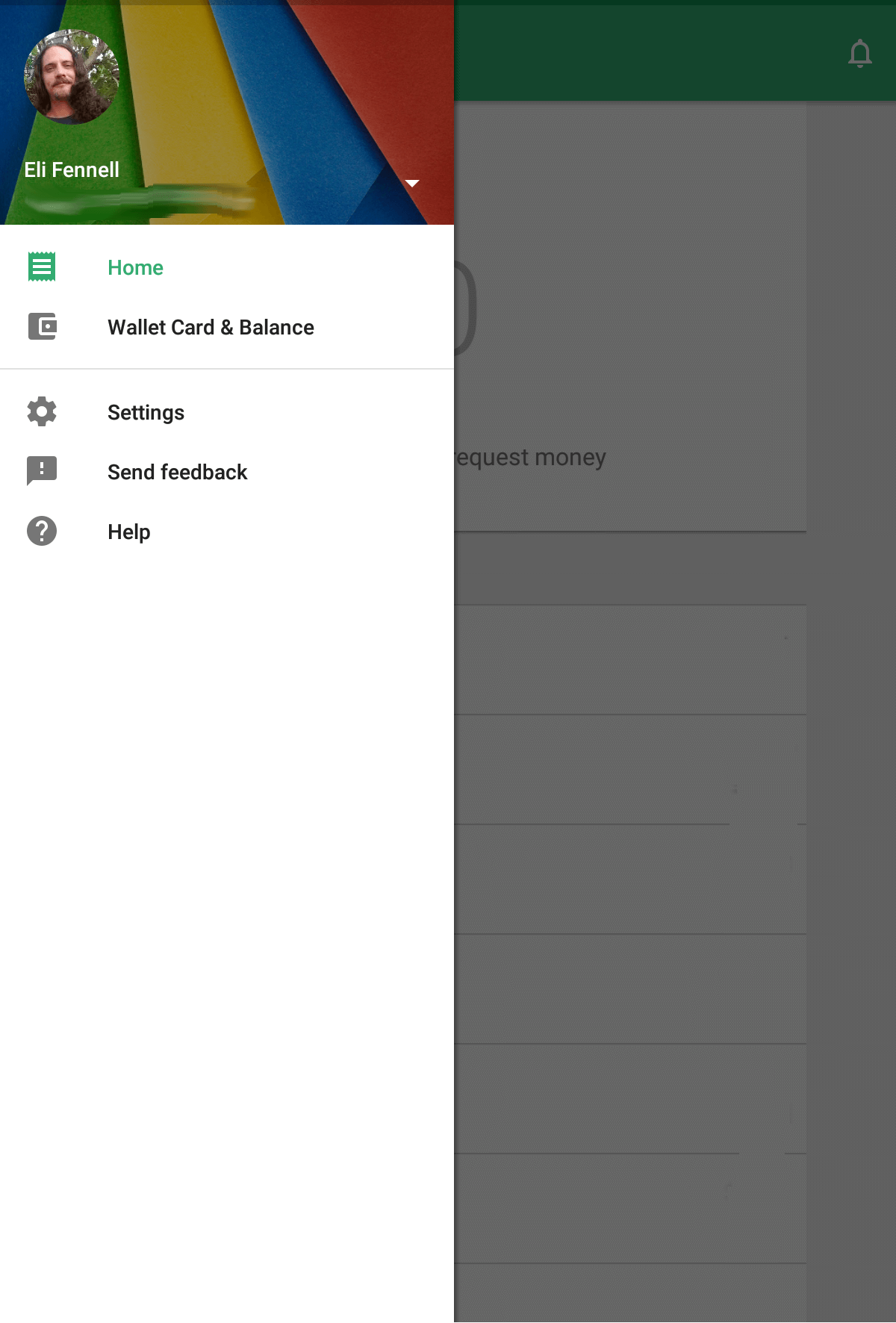 If you're a Wallet Card user like myself, the first option below Home will interest you the most.  Tapping on it brings up a panel as simplified for its purpose as the Home panel of the app.  From here you can easily see your balance and any recurring payments to your account, add money, cash out to a linked bank account or debit card, view the status of your card, lock the card if you choose, or even cancel the card, all from a single panel.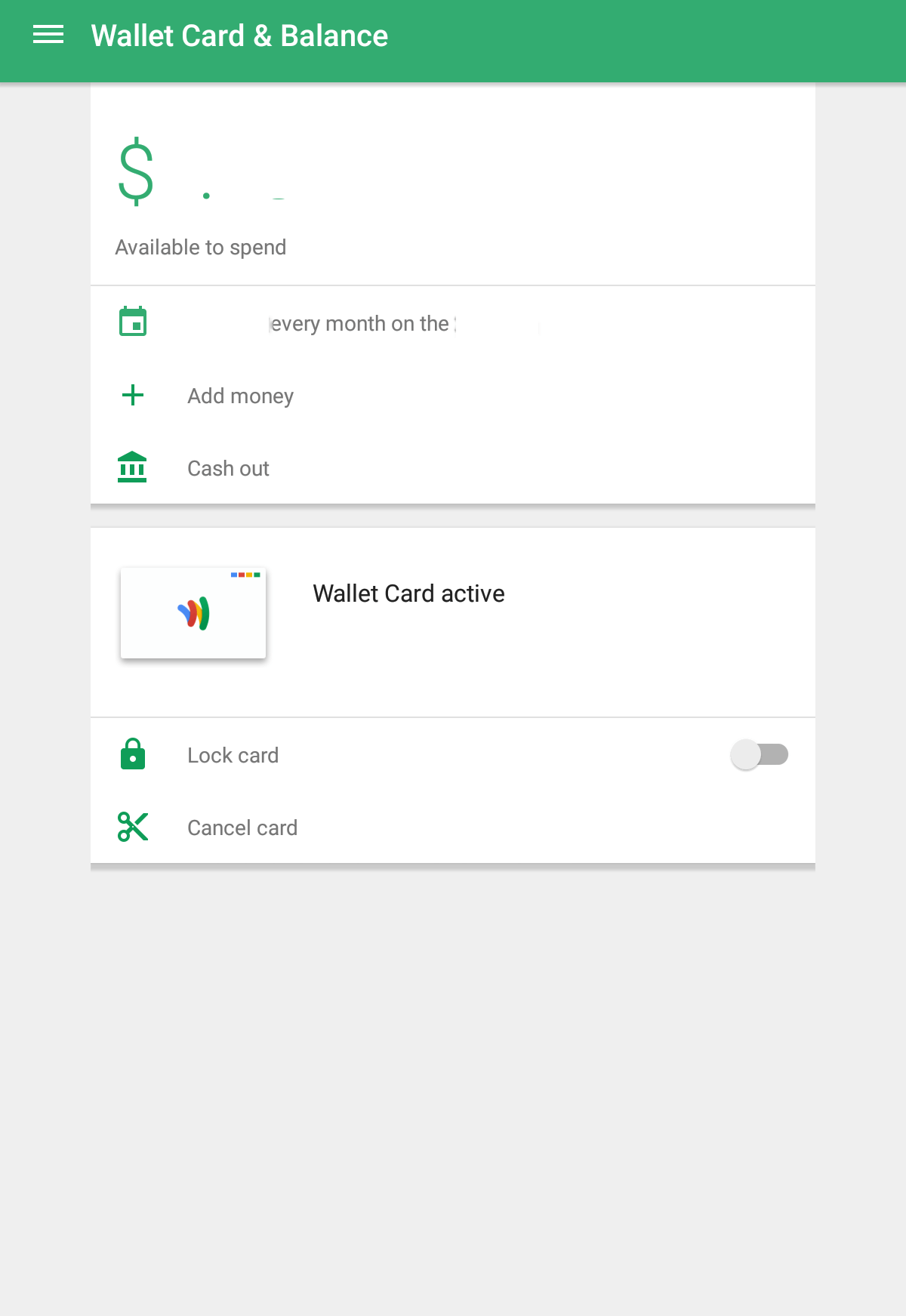 Tapping on Settings in the navigation menu opens a panel with a handful of options, each of which opens its own panel, except for the Email updates toggle switch: Security, Notifications, Bank account, Cards, and Monthly statements.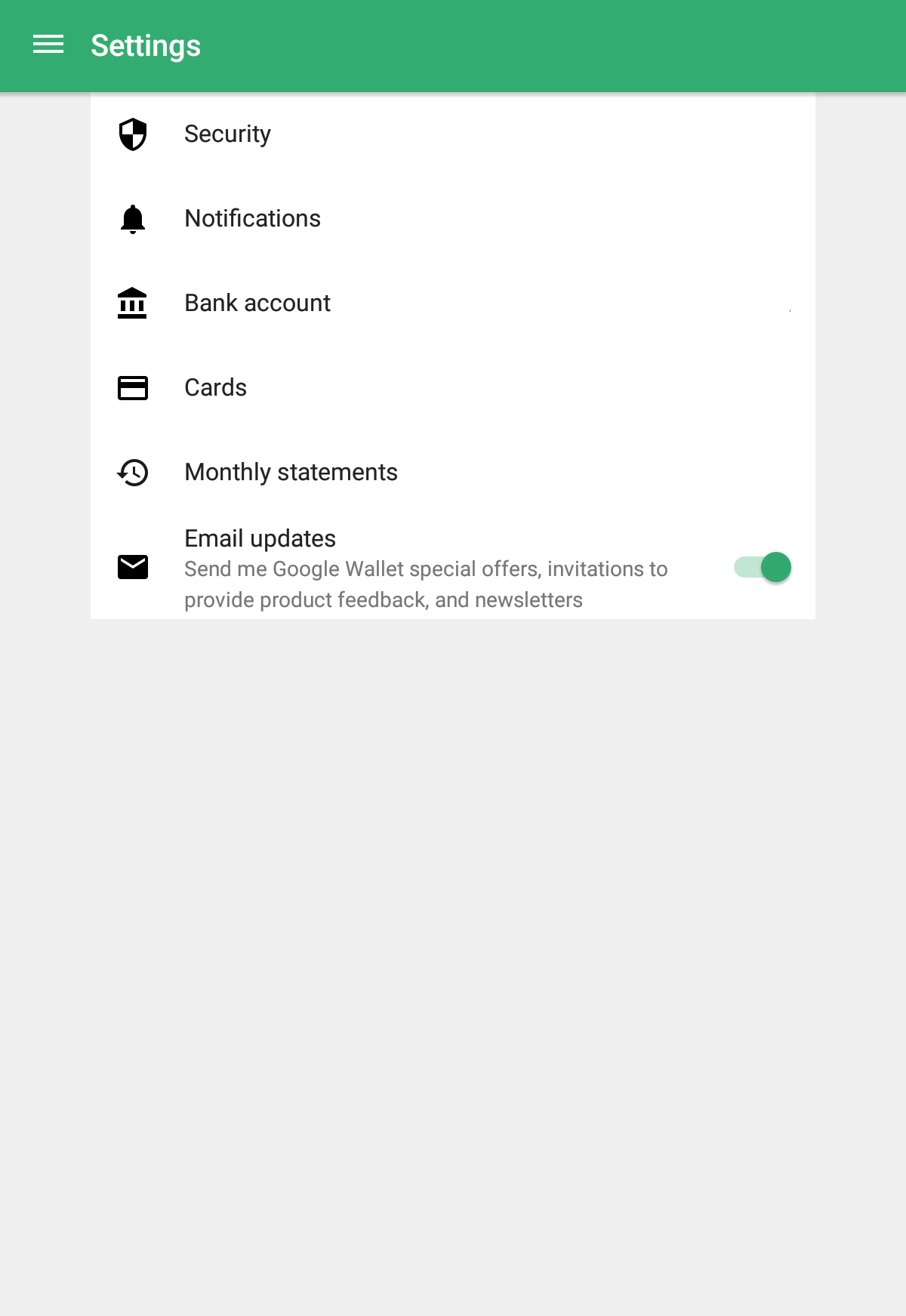 From these five panels, you can control all of the app settings.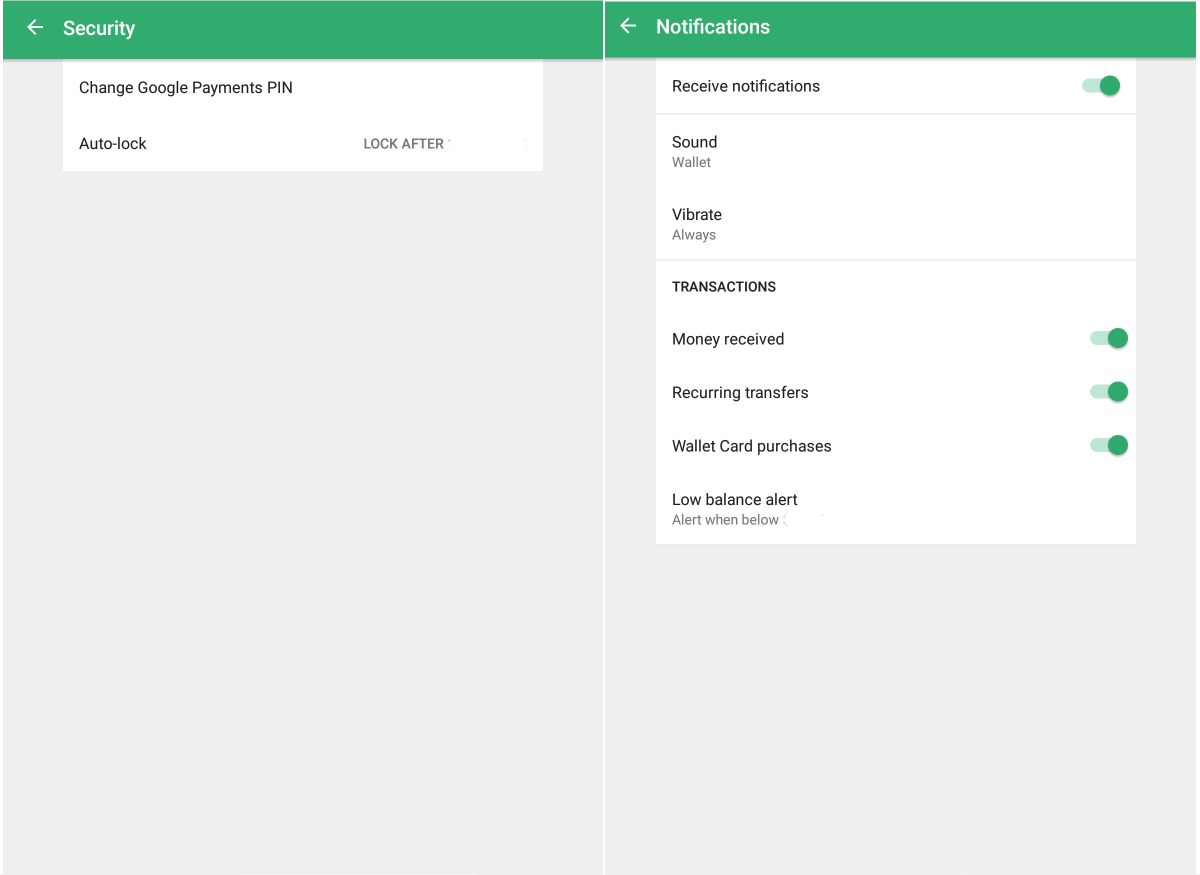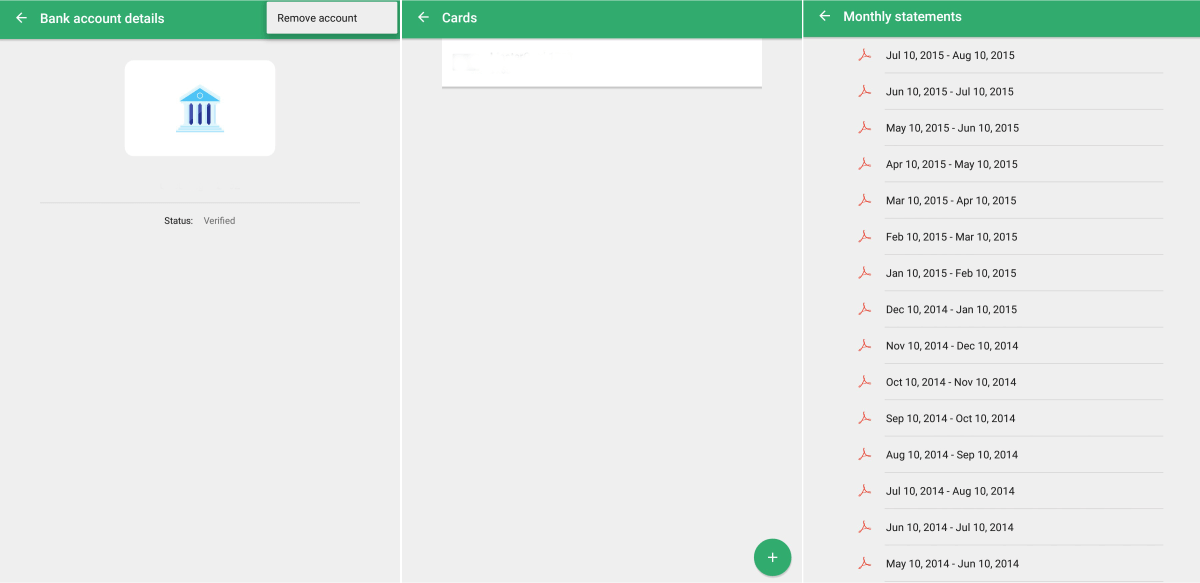 Tapping on Send Feedback in the navigation menu opens a standard feedback form.  Nothing new to see here.
And the Help panel, while often a neglected area for app design, is actually surprisingly well structured.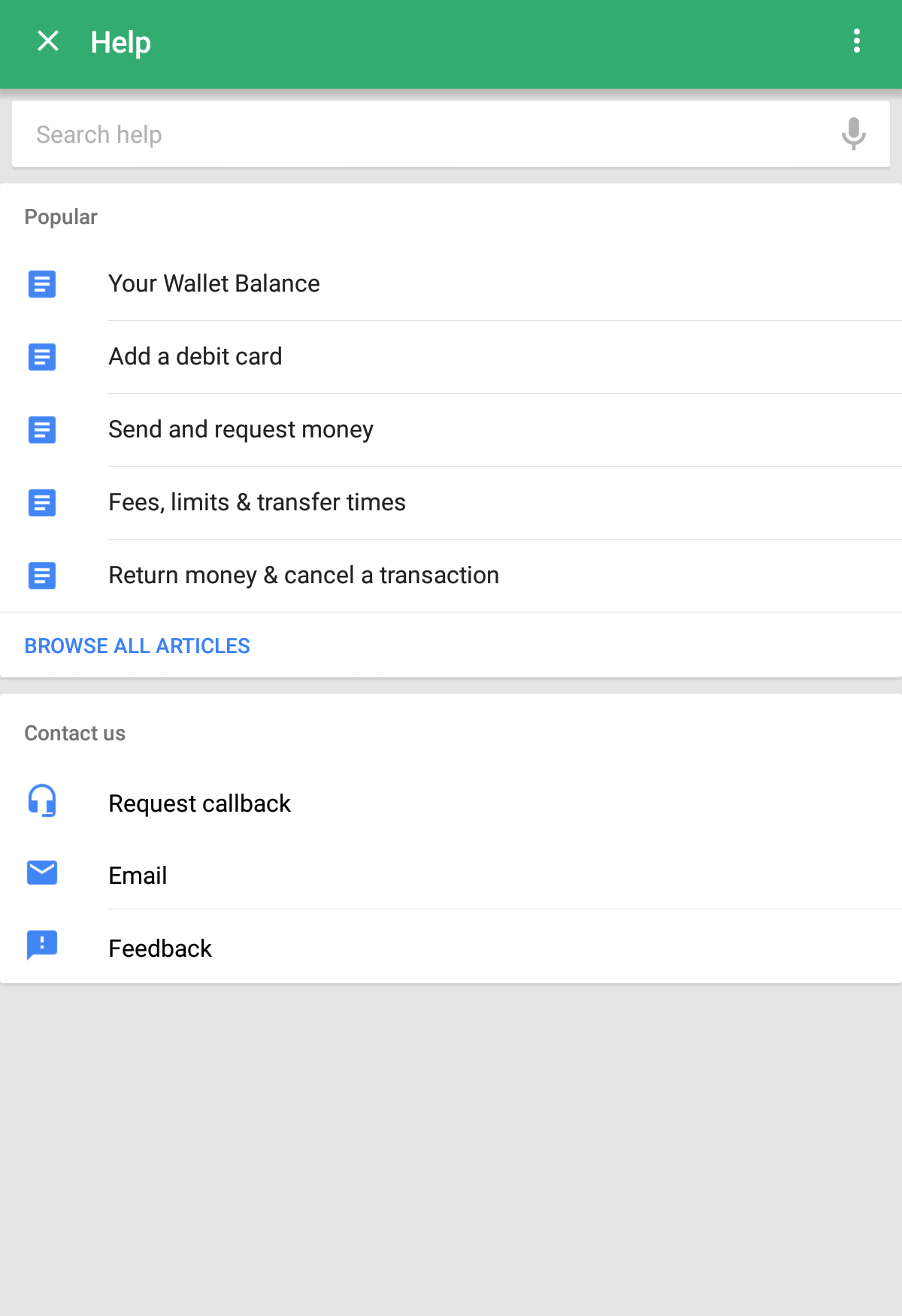 That's really all there is to the new Google Wallet app.  In my opinion, while there will now be two apps to do the work that one used to do between Android Pay and the reimagined Wallet service, this is an improvement nontheless, as each app will be able stay lightweight and hyper focused on a smaller number of functions, whereas previously Google Wallet felt bloated trying to handle all of these aspects simultaneously.