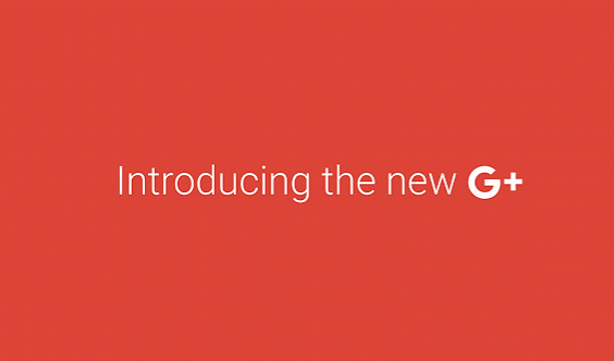 Yesterday, Google announced a major update to the Google+ social network: the beta release of a new version of Google+ for the web, to be joined by iOS and Android updates in the coming days.
On the one hand, it was only to be expected that this update would eventually happen if Google didn't kill the entire project (as doomsayers have been claiming they would since almost Day 1): the Google+ mobile app has been incorporating Google's new Material Design aesthetic (a common design language for the web and mobile) for some time, while the website has languished in a pre Material Design era.
On the other hand, this update is way more than just a new look and feel. To understand how this update goes way more than skin deep, consider how Google+ began: in 2011, Google+'s early major 'selling points' were Circles, a way of organizing your social connections (and Google Contacts in general) into groups, unlike the monolithic 'Friend' category on Facebook, and 'Integration', where Google+ would be the social layer of all Google accounts and products.
[clickToTweet tweet="The New Google+ update is way more than just a new look and feel. #NewGooglePlus #SocialMedia" quote="The New Google+ update is way more than just a new look and feel."]
This update is the opposite of that: Circles are abstracted away so that the average user will never even realize they exist, replaced instead with a straightforward Following system like Twitter. Even Circle Streams, which allow you to view a Stream of Posts from a specific Circle and have been part of the network from the early days, are now an opt-in feature buried in the Settings.
At the same time, Google+ is now truly standalone, with Hangouts yanked entirely (previously Hangouts occupied a sidebar like it does on the Gmail website), and Google Photos' presence on the network basically reduced to a simple tool for adding Photos to your Posts (as it's been in the mobile app for a while, already). Google+ is just Google+ now; the days of heavy integration are well and truly over.
Instead of Circles and Integration, the new Google+ focuses squarely on Collections and Communities. Communities are topic or theme based groups of Google+ users, similar to Facebook or Yahoo! Groups, or online forums in general. Collections are topic or theme based Posts created by a user, and which can be followed or unfollowed by other users without requiring them to follow or unfollow (if already following) your account, similar in principle to following or unfollowing specific Pinboards on Pinterest rather than following or unfollowing users.
What this means, is that Google+ is no longer in competition with Facebook. No one would mistake Google+ after this update for a network designed to bring together all of your friends, family, coworkers, former classmates, ex girlfriends, etc… Instead, Google+ now overlaps with interest based social networks like Twitter (or at least, that is how most people use Twitter) or Tumblr, and interest based groups and forums like the aforementioned Facebook Groups and Yahoo! Groups.
[clickToTweet tweet="Google+ is no longer in competition with Facebook. #NewGooglePlus #SocialMedia" quote="Google+ is no longer in competition with Facebook."]
It is here, I believe, where Google+ has a real shot of proving its value, the same value many of us who use it insisted was its real strength from the early days of the network onwards: in the war for the Interest Graph, the 'graph' of user interests that can be used to enhance and personalize everything from social networks to search engines to targeted advertisements (and much more).
Facebook is technically a player in this market, as well, as their users reveal a great deal about their interests through things they Like, Pages they follow, Groups they join, etc…, but in general Facebook is more focused on the Social Graph of the people you friend and follow on the network. In fact, Facebook recently increased the number of Posts from Friends in the News Feed, with an equivalent reduction in Posts from Pages and other non-Friend entities, suggesting that when the Interest Graph competes with the Social Graph, they'll choose to favor the Social Graph every time. Therefore, the new Google+ isn't really competing with them significantly.
While 'beating' Facebook is one of those goals Google would no doubt love to achieve eventually, it hasn't happened yet and probably won't any time soon, so they appear to have given up trying. The best strategy for social success, instead, is to focus on areas and needs in the market not occupied by, or underserved by, Facebook. Pinterest, Instagram, and Tumblr among others have seen rapid growth in recent years by not trying to beat Facebook at the things it does best.
As it so happens, there is a place in the market to seriously improve the market for social interest sharing and following, which Facebook is neither dominant in nor taking very seriously. Facebook Groups, while they have their supporters, are also extremely underwhelming and poorly adopted by their users compared the parent product. Even Yahoo! Groups, despite no significant innovations or improvements in years, still enjoy a following because they are sadly one of the best options out there to this day.  Google+ Communities, from a design and usability perspective, blow all of these options away.
And apart from Pinterest, which is just barely a social network instead of a fancy bookmarking system, or Tumblr, which is about blogging and thus more complicated to use than most social networks, there is virtually no social solution for sharing and following a single user around a specific topics or topics. I.E. if you follow me on Twitter for my tech Tweets, you'll also get my political Tweets, and there is no practical way to follow me for the one type without also seeing the other type.  Google+ Collections solve this.
If you needed more proof that Google no longer views this as a battle for the Social Graph but rather the Interest Graph, consider this: the new version of Google+ for the web makes it as easy for users to reshare Posts to Facebook and Twitter or as a hyperlink to anyone else as to Google+ itself (the ability to reshare Posts to other apps was also added to the Google+ mobile app in a recent update).  This helps tear down the walls between the networks, and brings Google+ in line with the company's overall strategic shift to hyperlinks as the primary social sharing tool for Google products.
With this new focus, it is finally possible to clearly state what Google+ is for and what it is better than any competitor at doing, in one sentence: Google+ is for sharing and following around your interests and passions.  And that is, finally and at long last, all that Google+ is, and nothing more.  It is not a social layer for all of Google; it is not a Facebook killer; it is not a Photo sharing network (though photography is one of the interests its users are passionate for).  It is is a place to share about your interests, follow Collections and/or people who share your interests, and/or join or build Communities focused around your interests.
[clickToTweet tweet="Google+ is for sharing and following around your interests and passions. #NewGooglePlus #SocialMedia" quote="Google+ is for sharing and following around your interests and passions."]
With this, I believe Google+'s place in the social media landscape will finally begin to make sense even to its most outspoken critics, who have often struggled to understand what it was for, how to use it what types of people use it, and which markets and companies it actually competes against.
As I've said before, Google+ never needed to kill Facebook or any other network to be considered a true success; it just needs to be the best, the 'go-to' network for something, which was impossible as long as its focus was split between trying to beat Facebook and Twitter while also trying to unify all of Google.
Have you tried the new Google+?  What would you like to see change about Google+?  What should stay the same?  Comment below or on your favorite social network.
Related Posts
Advanced Tips for Google+ Collections